Ukrainians started using Telegram 8 times more after February 24
The time of using the application increased 8 times during the full-scale Russian invasion of Ukraine. This is evidenced by data from the Kantar CMeter research tool.
If previously the average user spent 5 minutes a day on Telegram, this figure has increased to 40 minutes a day since February.
According to the results of the April ranking of mobile applications, Telegram's audience growth reached 5% and increased its reach among smartphone users in Ukraine.
The Telegram application was most actively used in the period from February 28 to March 6. During the most acute phase of the military invasion, Ukrainians devoted up to 1 hour of their time to Telegram every day.
At the end of April, the indicator decreased to 30 minutes a day.
January - Aprill 2022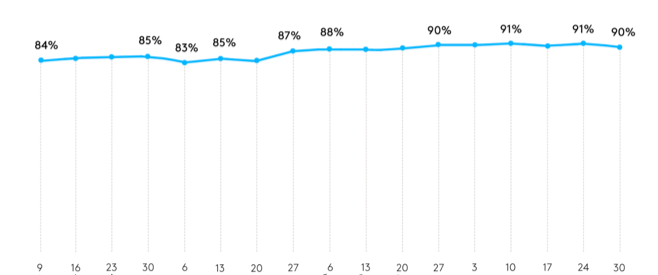 "Now this is one of the most convenient ways to get news about the current situation: many Telegram news channels have appeared, as well as government-owned Telegram channels that have been introduced to inform the population.
In the first days of the invasion, most Ukrainians used the messenger for its main purpose - maintaining communication and contacts with all their relatives, friends and colleagues. Telegram served as one of the first applications to keep in touch with those who were forced to go abroad," says Anton Pigida, chief methodologist at Kantar Ukraine.